Adults > Wrist Supports > W-700 Series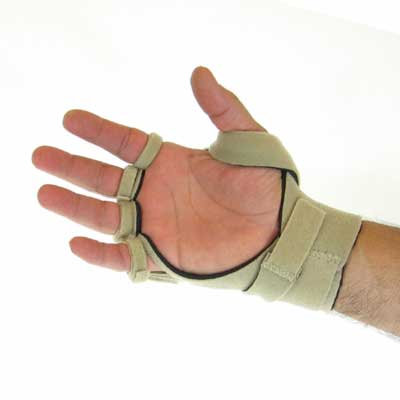 W-701
Hand based splint provides digit and thumb MP extension associated with digit and hand weakness/paralysis secondary to radial nerve palsy.
The dynamic, low-profile design results in a functional, cosmetically pleasing splint that positions the hand open and ready to use for activities of daily living. Full product weight is only about 3 ounces. Specify left or right hand.
Available in beige, royal blue, hot pink, black, navy blue, orange and gray.
Benik's medical professional customers have reported success using the W-700 series supports for management of mild ulnar drift. Their patients have experienced improved grip through dynamic, resistive support of the hand, wrist and digits.
Suggested L-Code: L3929
See More Information
STOCK SIZES
W-700 Series
Stock Size
Circumference
at MCPs
Circumference
at Forearm
(W-710/W-711 Only)
S/M
6½" — 8"
6" — 11½"
M/L
8" — 9½"
6" — 12½"