Adults > Wrist Supports > W-700 Series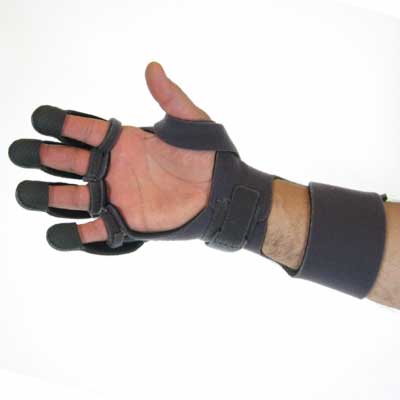 W-710
Forearm based splint provides digit and thumb MP extension, digit PIP/DIP extension and forearm and wrist support associated with digit, hand and wrist weakness/paralysis secondary to CVA/TBI. Also helpful with decreasing minor spasticity and flexor tone.
The dynamic, low-profile design results in a functional, cosmetically pleasing splint that positions the hand open and ready to use for activities of daily living. Full product weight is only about 5.5 ounces. Specify left or right hand.
Available in beige, royal blue, hot pink, black, navy blue, orange and gray.
Benik's medical professional customers have reported success using the W-700 series supports for management of mild ulnar drift. Their patients have experienced improved grip through dynamic, resistive support of the hand, wrist and digits.
Suggested L-Code: L3807
See More Information
STOCK SIZES
W-700 Series
Stock Size
Circumference
at MCPs
Circumference
at Forearm
(W-710/W-711 Only)
S/M
6½" — 8"
6" — 11½"
M/L
8" — 9½"
6" — 12½"